In-play betting strategies have emerged and proved to be powerful techniques relied upon by seasonal as well as casual punters. Whether you are a pros or a novice punter, you need and deserve a live betting strategy that works just perfect. In the fast-paced world of sports, every second matters a lot.  In-play betting strategy,  commonly referred to as live betting, enables bettors to place wagers on sporting events while they are taking place. In order to optimize profits, this type of betting brings a special set of chances and problems. We therefore, after gathering statistics from our real/practical wagering techniques, present you with reliable in-play betting approaches that can give you a competitive edge in the thrilling world of sports betting.
Best In-play Betting Strategy: Step by Step.
Hey Punter, live betting is like a trade. You must master the art of sports trading. At Gradualwins, we have helped over 10,000 punters to pursue sports betting full-time. With our 7-year tested betting  strategy, you will make over $500 in profits. It's Your Turn, Be Bold and Join the Profiting Club Today.
Investigate and plan.
Successful in-play betting starts with rigorous research and planning, just like any other type of betting. Prior to the game, learn as much as you can about the teams or players, including recent performance, head-to-head records, injury updates, and any other pertinent information. You'll be able to make better decisions throughout the game if you analyze the pre-game data and comprehend the teams' strengths and weaknesses.
Analyzing and Observing the Game.
In-play betting strategies that work calls for thoroughness. Therefore, like in any other betting strategy, it's important to thoroughly watch and study the game once it starts. Pay attention to how the teams' momentum moves, player displays, and tactical changes. This in-game analysis will give you insightful information about how the game is developing and assist you in spotting potential betting possibilities. Possession, shots on goal, fouls, and substitutions are just a few of the variables that can affect the result of the game and offer profitable betting opportunities. We know this is not an easy feat –  Allow us to do the hard job for you.  
Speculate and spot the

momentum 

changes.
Using momentum fluctuations inside a game as a betting opportunity is one of the most common in-play betting techniques. During a game, momentum can change drastically, and detecting these adjustments early might result in successful wagers.
For instance, betting on a favorite club to come back could have favorable odds if they concede an early goal but then start controlling possession and creating scoring opportunities.
Similarly, betting against an underdog could be a smart decision if they suddenly grab a lead but then start displaying indications of exhaustion or defensive weakness.
Bet hedging.
Look, hedging your bets in-play betting can give you a great chance to hedging your pre-game wagers. Conditions may alter as the game goes on, making it advantageous to adjust your bets to cut back on potential losses or assure gains. For example, you could place an in-play wager on the opposition team to offset any possible losses if you had placed a pre-match wager on a team to win but they gave up an early goal. You can reduce risk and profit from shifting odds throughout the game by hedging.
Using 

Real-Time 

Statistic 

and 

Data.
In-play betting strategies rely on data. Thus, live data and analytics are becoming essential assets for in-play bettors in the digital age. Real-time information on different game parameters, including possession, shots on goal, corner kicks, and yellow cards, are available from several online bookmakers. You can use these real-time information to inform your betting choices. Betting on the overall number of goals scored: An excellent example that could yield profits is when a side controls possession but is unable to capitalize on its opportunities. Similar to this, betting on more cards being shown could be successful if a player obtains a yellow card and the opponent takes advantage of that vulnerability.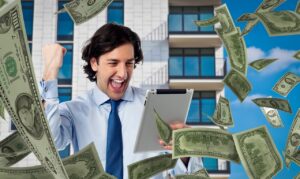 Manage your bank account.
This in-play betting technique might sound easy but its not. Well, we agree, in-play betting can be thrilling and even lucrative, but it's important to handle it responsibly. For your in-play wagers, establish a budget and stay away from chasing losses or placing irrational wagers. To achieve long-term viability, a clear bankroll management approach is important. Always keep in mind that successful betting takes patience and discipline.
Conclusion
For the last 7 years, Gradualwins has tested an in-play betting strategy that has proven to work. The fact is that you need a betting manager and mentor. It's not healthy to continue betting anyhowl whenever and wherever you feel like. Once you fill in this form, you will be assigned a betting manager to professionally execute all of the above in-play betting elements.
This particular strategy will generate you a minimum of $45 per day. We are 100% aware that  this is what you have been looking for. Use this strategy to make over $500 per month.